Submitted by William Knose on
Submitted by William Knose on
Delicious Tuning's Premiere EcuTeK Dealer, HG Motorsports, will be offering a Sunday only special $100 off all EcuTeK packages listed below. Hint, hint... If you show up on Saturday we might be offering the same special. Just don't tell anyone... Phone in orders: Calling by phone day of the event for the special offer? Not a problem. Please call Delicious Tuning's work number: 408-480-0995 between 8am-4pm PST. (Shipping will be $20 within the CONUS) We will have all calls forwarded to our cell phone and all orders will be processed through HG Motorsports.

Submitted by William Knose on
Scion FRS Breaks 250 WHP RobiSpec, Innovate Motorsports and Delicious Tuning have teamed up on the HG Motorsports Dyno Dynamics AWD dyno to produce a power level above the 250 wheel horsepower mark. This may not seem like much of an accomplishment but take into account that a stock Scion FRS or Subaru BRZ will read about 135-140 wheel horsepower in heart breaker mode and too boot this is with the Innovate Twin Screw Supercharger kit, something that bolts on very easily within 4-5 hours and makes instant power from 2800 RPM's to redline.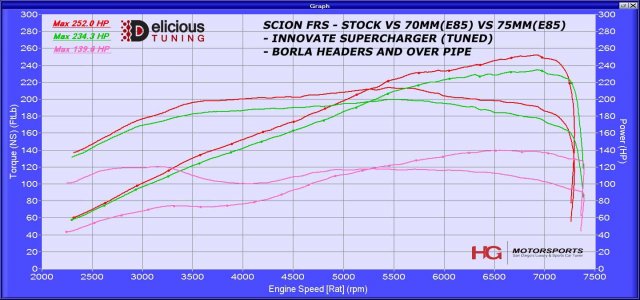 Pages