Submitted by William Knose on
Please also welcome our new EcuTeK sub-dealer Mirco Image: (one of our premiere dealers)
Micro Image
Welcome to Micro Image! We are specialists in small car performance parts and tuning. We have access to all major brands and look forward to helping you personalize your driving experience -- the way YOU want it. We have a shop, we drive, we race. Our wrenching, tuning and driving experience helps us help you. We invite you to browse through our store and shop with confidence. Create an account with us if you like, or shop as a guest. Either way, your shopping cart will be active until you leave the store.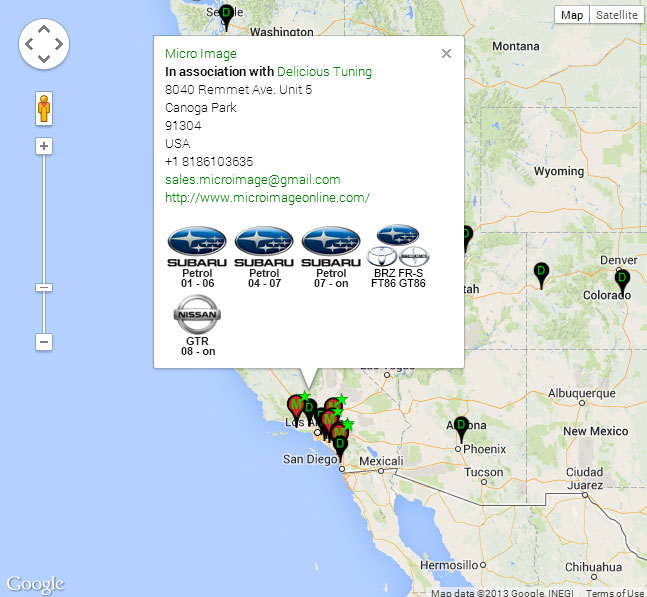 __________________________________________________________________________________
We have also added a few more dealers offering Delicious Tuning specific tuned packages and also supporting their local Subaru communities. 
Mann Engineering
Starting in 2001, Mann Engineering began life as a hobby with a group of enthusiasts modifying Subarus with the concept of making a difference in performance tuning. Today, we are an established business with a goal to provide our customers with high performance daily driver vehicles that work on the street and on the track. As a company we strive to provide high performance without the sacrifice of everyday drivability. This is the clear distinction between tuning for a better driving car and modifying for racing or ultra-high performance with all the implications for reliability. This is also why we only focus on one automotive manufacturer, Subaru. We focus all our efforts with one manufacturer so that we can be the best. If we focus on other manufacturer vehicles like many others, then we begin to lose our focus.
We present only the best possible equipment for your Subaru BRZ, Impreza WRX/STI, Legacy, or Forester carefully selected to meet your needs. We carry only quality, engineered parts from leading aftermarket and OEM suppliers, assuring you proper fit and lasting performance. With a market being pulled in many directions, Mann Engineering sets a goal to design packages that make a differences that work and you can feel. We strive to develop these suspension and brake packages that are complete with track proven results. We are one of the few companies that test our products before we make the decision to carry it. We do not just carry every brand out there but want to be one that carries nothing but the best.
We are also the home of the Impreza Type-25 US Edition. This car shows exactly what we are about and how a car should be properly tuned. A car that performs and stays under the radar. Working witht the original creators, we are proud to be able to offer this car in the United States as it is definitely a unique and one of a kind Subaru.
In 2011, we became the exclusive distributor of Milltek Sport Exhaust systems for Subaru applications. We carry the full line of Subaru products from Milltek and assist in product development for specific US-Spec applications. Milltek Sport exhausts are the exhaust for all the Type-25 US Editions. Milltek Sport uses HJS Motorsport catalysts for providing maximum exhaust flow with great emissions control.
Currently developing and testing new products at our facility, we are also performing suspension and brake installations along with regular maintenance services that keep your Subaru operating at its best!
__________________________________________________________________________________
LIC Motorsports
LIC Motorsports (Levy's Innovations & Conversions Motorsports) is owned and operated by Adam Levy. Adam is an avid Subaru fan and a true enthusiast at heart. He has been tweaking stuff from back in the days of Lego's.
From day one Adam was a very mechanical person; his folks thought for sure he would be an engineer, as he just "thinks like that". After attending college in Colorado for a few years and getting his Associates Degree Adam decided it was time to start life in the real world.
 While out in Colorado he drove his friends Subaru Outback Sport and loved how it handled in the snow. Upon returning to California he felt the need to have a Subaru of his own.
In early 2000, Adam called his younger brother Noah to go down to the dealership and help wheel and deal for a black 1998 RS. Little did they know it would be the beginning of a journey Adam would still be riding today. While owning the RS Adam did a JC Sports Turbo Kit. After many years of drag racing, track events, and tweaking the car it finally blew its head gaskets. That was about the time Subaru released the turbo charged 2002 WRX. In the summer of 2002, Adam once again called on Noah to pitch an idea at him. It was simple, take a 2002 WRX motor and harness and splice it into his car, maintain all the
emission controls and he would have himself a 100 percent California compliant smog legal conversion. Noah was skeptical but believed in his brother's abilities and loaned him the $6,000 to buy the wrecked car that was needed to perform the transformation.
Nearly two and a half months of dissecting through thousands of pages of schematics and diagrams and what seemed to be miles of wiring had finally paid off. Adam became the first person in the country to successfully perform the ever so popular conversions known to this day. Within a short time frame a little company by the name of I-Speed USA approached Adam with an idea. The plan was for Adam to buy a third of the company and become responsible for performing the conversions that would now be marketed to the public. With a growing business and a few dozen conversions under their belt I-Speed USA wanted to relocate to southern California (which later ended up merging with another shop). Adam was not interested in moving seeing that the client base had already been laid in northern California. I-Speed USA and Adam decided it was time to part ways...a new business was formed within weeks.
LIC Motorsports opened its doors for business in February 2004. The shop started small. In a mere 1500 square feet, LIC Motorsports was a two man team. Today the shop sits in a 2500 square foot location equipped with state of the art machines, tools and is known to be one of the most technologically advanced shops around. The company focuses on everything from regular maintenance services to full track builds. The dedication the Levy brothers have is unlike most has ever experienced. Hopefully in time it will help set the bar for other shops alike.
__________________________________________________________________________________
Zenkai Motorsports
We specialize in Subaru Performance Tuning and modifications including OEM and premium aftermarket performance installation. Since its inception, Zenkai Motorsports has been engaged in motorsports events and skunkworks projects including the restoration of a 1969 Subaru 360 Van for the SEMA Show 2009, and the creation of the ZMRT (Zenkai Motorsports Racing Team) program. With acknowledgment and appreciation of our sponsors, Zenkai Motorsports has proven to be an emerging resource in performance tuning and a proponent of competitive racing.
Without the assistance of our supportive sponsors, we could not continue to be as successful as we have been. If you, or your organization would like to discuss sponsorship opportunities, contact us today!
Some of the big, online only retailers have HUGE inventories, but little to no knowledge about Subarus. If you have issues with a part, installation or your car is in need of a major overhaul, can that website sales person answer your questions?
Zenkai Motorsports' technicians have a wealth of Subaru knowledge too. They can handle anything from a simple bolt-on upgrade to engine builds and diagnosing why a vehicle won't start or stay running.